I will strongly recommend Shannon to my friends and family.


Ready to see for yourself?
Experience first-hand why 729 homeowners give us a perfect score!
Check My Eligibility →


They are very professional and amazing at what they do if you looking for a smooth transition this is where you will find it.


Highly recommend A++++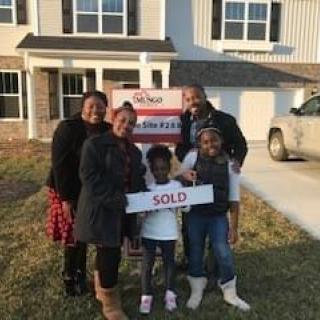 Veterans United Home Loans is an amazing company to assist Veterans like myself in this home buying process. My husband and I have been told that we will not be in a position to purchase a home for a long time by several other home loan programs. We were so discouraged and thought that we will have to rent homes forever. The first time I had contact with Shannon in the Lighthouse Program, I felt a sense of support immediately. Shannon was able to assist us in creating a plan over a 12 month period to move us towards home ownership. Once we were in a position to qualify for a loan, Shannon immediately connected us to a local office to start the process of buying a home. We were able to secure a preapproval in about 2 weeks. Rebekah Emerick was able to assist us in purchasing our first home in about a 60 day time period. The process was surprising painless, and I know that it was all because Rebekah and her team worked extremely hard to make our dreams come true. The Hunt family would like to say THANK YOU to the Veterans United Home Loans team in Savannah, Georgia for helping us achieve the American dream of home ownership.




If you are still looking at other options you might as well stop once you see this team cross your path! I am totally convinced that no other team can do a better job than this one! Veterans United is the only team I can recommend in good faith to people I know and know that who ever I send to VU will surely be taken care of! So basically I know you won't be disappointed. Come one, come all, to the Greatest veteran loan company anyone could ask for! God Bless VU!

Ready to see for yourself?
Experience first-hand why 729 homeowners give us a perfect score!
Check My Eligibility →
Website forgets my password. I had to reset it for every log in.


I can't say enough wonderful things about Gabe and Maureen!!! We all know buying a home is stressful and they both made the process fun and easy. I know they both worked long hours getting us "Cleared to Close". They both really have become family and I couldn't imagine working with anyone else. In fact, I will always keep in touch with both of them because the bond we formed during these last few months is remarkable. I will recommend anyone I know looking to buy a home to go with United Veterans!

I didn't know if I could handle the process of buying a home at my age, but Shannon Workman of Veterans United Home Loans made it so easy! He kept me on point with every step, always updating me on progress!!

If you're thinking about, DO IT! These guys are the best in simplicity and knowledge. Every piece of advice was to the point and EASY to understand.


I would have liked a couple of things handled a little different but over all it was a very good experience.


Gave, Maureen and the entire Veterans United team went above and beyond for us! They are an exceptional group!